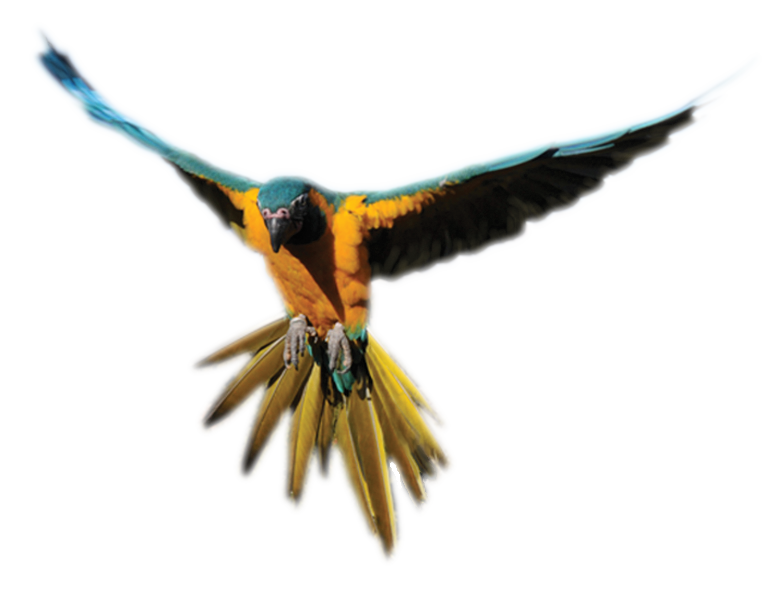 September 2004 Show
September 28, 2004
Forwarded to Chris Biro from Curry Roberts (Board Member Virginia State Fair)
From: Sue Mullins (Entertainment Director who hired Chris Biro and The Pirate's Parrot Show)I am getting a lot of positive feedback on the Pirate's Parrot Show, all in the same vein as the following.Sue—– Original Message —–
Dear Friends,
My daughter Sabrina and I saw the Pirate's Parrots show Saturday (September 25th) at the Virginia State Fair. I must admit when we saw the show listed in the program I figured it would be like all the other shows we had seen in the past where the birds walk across "high wires," bicycle, or pull a string to hoist a flag. However, this show was not only different, it was also entertaining and educational! We arrived 15 minutes before show time and had to sit on the ground as all the bleachers were already taken. Although my first thought was that it was going to be difficult to enjoy the show under such circumstances, I became so engrossed that I wasn't even aware of it.
"Captain Christopher" Biro did not put the birds through degrading stunts or force them to perform. It was obvious that the birds were treated with respect. He demonstrated their beauty and grace through natural flight, while educating the crowd of the affects of deforestation and the importance of recycling. Mr. Biro has excellent people skills as well as he fielded a variety of questions from a very diversified crowd and provided answers that were always educational without being demeaning.
Mr. Biro did a wonderful job showing the birds' true nature. What a welcome relief from the sad, molding birds seen in pet stores or people's homes. I have recommended The Pirate's Parrot Show to all of my friends. I hope you will bring Mr. Biro back again next year. You can be sure I will visit the fair if you do.
Sincerely,
Melissa
Prince George, VA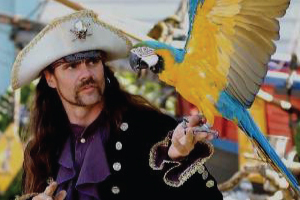 An educationally based pirate-themed parrot show performing at state and county fairs since 1991. The Pirate's Parrot Show is a Fun, Educational, and Interactive experience for all ages and cultures.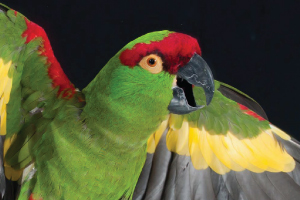 One in every eight bird species in the world today is in danger of extinction and these numbers are increasing! Find out how this non-profit organization started by Chris Biro can help save and protect parrots and other birds.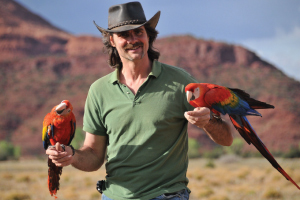 An Alternate Perspective – Enjoy these audio Podcasts of Chris with guests discussing the nature of training flighted birds. The discussions are intended to be loosely structured around a general topic. 
Email Us
chris@libertywings.com
Contact Us
By Using the Contact Form