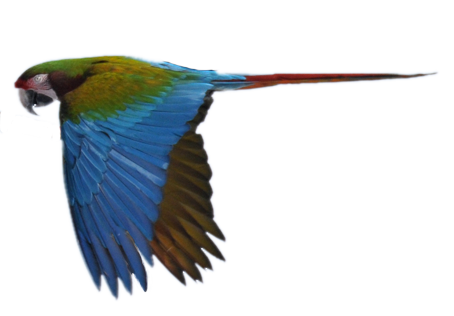 August 2011 Show
August 19, 2011
Just wanted to say how much my family and I enjoyed your show yesterday. I hope to see you again somewhere. You have a great gift,awesome it being used.
Hugs,Anita
August 17, 2011
We really enjoyed your show at the CCF, really loved the little ones collecting the dollars. That alone was worth the price of admission.
Dave Kellogg
August 17, 2011
hi I saw ur show at the fair and gave ur birds sunflower seeds haha it was fun and ur blue troughts liked me well i really think what u do is soo cool!!
Ashley Keeler
August 16, 2011
We just saw the pirate show at the Clark County Fair, and LOVED it! Can you provide their schedule? I would like to tell family members where to find them.
Thanks,
Cheryl
August 16, 2011
Hello, I saw your show today at the Southwest Washington Fair. You and your birds were great!!! Keep on going, everyone loves you guys!
Thanks,
Kacie
August 15, 2011
Thank you so much for appearing at the Clark County Fair. My family and I attended you informative show three times during your stay. It was very educational and that was the best pat of the show. Your humor and patience was much appreciated. Your message about recycle was great and how you came across with it was excellent. Pulling no punches and showing that the consequences of not recycling are deadly are just what the general public needs. Rough crowd that was on the last day, with the children crowding the stage during your show was upsetting. How your response to a child about Home School was totally misunderstood. Having a elementary school teacher in our home, my family knew exactly what you had meant. NO WORRIES o.k. Once again your show was amazing and we hope to see you again next year.
Sincerely,
The Howard family
August 14, 2011
Hi Chris,
Both my kids and I absolutely enjoyed your Pirate Show at the Clark County Fairgrounds on Friday it was definitely the highlight of the day for us!….they enjoyed it so much that my ex, their dad, took them back today just to see your show specifically….. Your show is exceptional in the fact that not only is it interactive, and informative, with regards to care of the variety of beautiful exotic birds, it is also an environmentalist's aspect on extinction and how we can all help in some way to prevent it…..
My cell phone was filled to capacity on Friday with so many of your beautiful birds…..and of course you the handsome Pirate! I'm wondering if I could have your permission to either sculpt or paint from the photos I took of you…..the one I especially like that I took that day has a little conure on top of your Pirate hat and two others in your hands…..I'll have to text it to you.
Denise Hollar-Hambrook
Western, Native American & Wildlife Art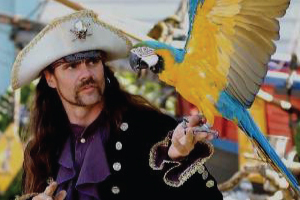 An educationally based pirate-themed parrot show performing at state and county fairs since 1991. The Pirate's Parrot Show is a Fun, Educational, and Interactive experience for all ages and cultures.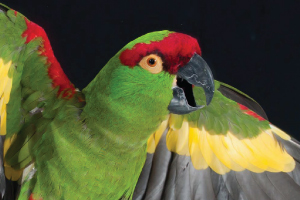 One in every eight bird species in the world today is in danger of extinction and these numbers are increasing! Find out how this non-profit organization started by Chris Biro can help save and protect parrots and other birds.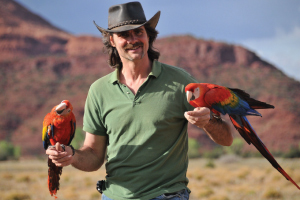 An Alternate Perspective – Enjoy these audio Podcasts of Chris with guests discussing the nature of training flighted birds. The discussions are intended to be loosely structured around a general topic. 
Email Us
chris@libertywings.com
Contact Us
By Using the Contact Form