Register For a Free-Flight Class
Free Flight Class Testimonials
Current Classes Options
Skype Based Individual Flight Training Classes Or Consultations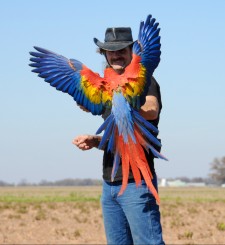 This is an on-line class taught via Skype. The Free Flight Training Course is $300.
The class includes Power Point based instruction and video taught via private Skype sessions with Chris Biro.  The class is taught via six 1.5 hour class sessions which are scheduled based on your availability and the pace you wish to work. Most students get through the class material within a couple weeks. Students also have access to training material and videos not available on the website.
You will learn how to structure the training process for maximized success and safety to result in a flight trained parrot that is friendly and social and a skilled athlete of the sky. You will learn about why and how to select an appropriate bird for the style of flying you are interested in, how to train Rally Point Fidelity and to prepare your bird to deal with the threat of hawks. Covered are how to encourage and train adult birds to fly indoors, how to progress to outdoor flight and how to expand outdoor flying to include safely flying in virtually any environment via Chris' five levels system. Classes cover general training theory, applied operant conditioning, classical conditioning, ethology and the theory behind Chris Biro's flight training approach and practices.
To Register for a Free-Flight Class you will need to:
Fill out the Registration Form below
Make a Payment for your class
Come to your class with a Veterinarian's Letter of Health
Registration Form
Veterinarian's Letter:
At this time we are not offering in person classes so no veterinarian letter is required for our classes. Should we again offer in person classes, the participants bringing their own parrot are required to bring a letter from their vet stating the vet believes their bird is adequately healthy to participate in this program. Your vet is the health expert for your bird and will determine what tests, if any, are necessary to make his determination.
Additional Class Details:
Flight Training Courses will be held via Skype. Chris Biro will be the instructor. Once registered it is up to you to contact the instructor to schedule class times.
For more information or specific questions please
contact Chris Biro