Chronicle Article – August 11, 2011
Twenty-one-year veteran fair pirate, Parrot Man Chris Biro of Moab, Utah & a former Lewis County resident, explained the Dollar Bill Trick portion of his show to The Chronicle Wednesday.
The trick involves asking audience members to hold up a dollar bill. Biro then releases one of his parrots, who flies out and snatches the green-back from the unsuspecting owners hand. The parrot then flies back to the stage and drops the dollar bill in a large glass jar.
But does he then return the legal tender? Oh no, Biro replied. You don't understand this pirating thing, do you?
Live at the Clark County Fair
Story Published: Aug 8, 2012 at 9:30 AM
Janice Bangs was out live at the Clark County Fair with Pirate Chris and his amazing parrots from The Pirate's Parrot Show which runs daily at 1:00, 3:00 and 5:00. Get up close and personal with parrots from all over the world! Check out the great video:

Parrots Delight on Fair's Final Day
Pirate-parrot show gets young attendees squawking
Story Published July 23, 2012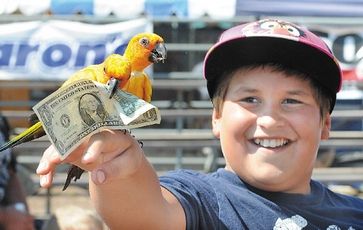 Children beamed and squealed as bright yellow, orange and green parrots fluttered around The Expo Sunday, snatching dollar bills from outstretched arms and perching on unsuspecting heads.
"I love parrots," Brittanny Pohlman said. "I think it's amazing that they come get the money."
The Pirate's Parrot Show was a hit for those visiting the summer fair on its last day. Dressed in pirate's costumes, the owners of the parrots paraded back and forth on the stage as various parrots flew into the audience or circled around The Expo, squawking overhead.
A sailing ship in the background enhanced the pirate's theme.
Pohlman, an 18-year-old from Central Point, has her own parrot, Alejandro, which she said enjoys shopping with her at the mall.
"My parrot snuggles on my shoulders and says, 'I love you,' " she said.